Spain – Foreign buyers in Spain : a look at the first months of 2017
According to the « Colegio de Registradores » in 2016 foreign buyers purchased 55.512 properties Spain[i]. This is nothing less than a record level in Spain , apart from a peak in 2013 as you can see in the graph below (screenshot from data.kyero.com).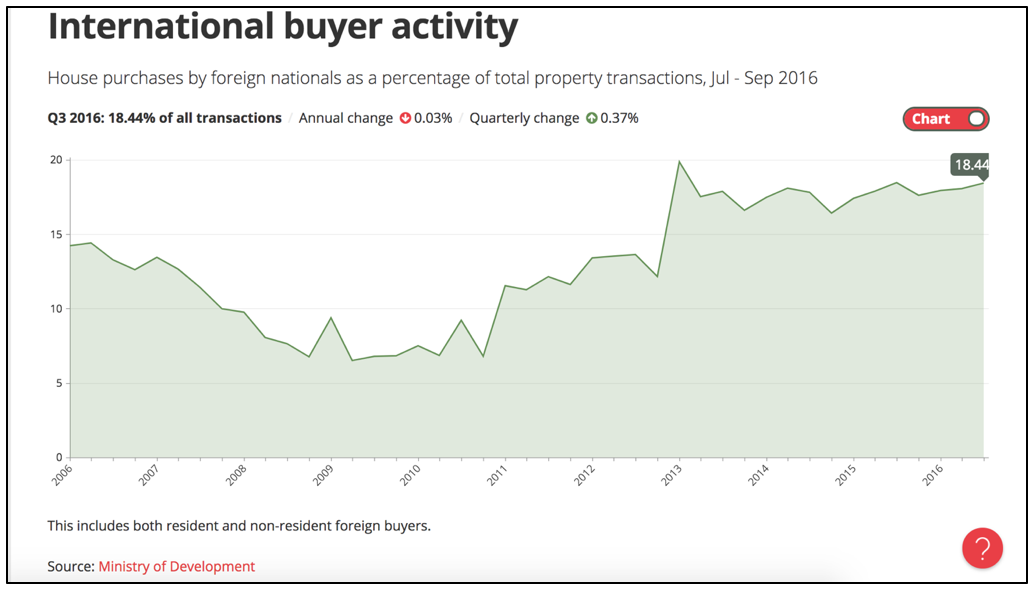 In which regions is the proportion of foreign buyers the highest?
In the first three months of 2017, the regions (comunidades autónomas) which recorded the highest proportion of foreign buyers were Canarias (34,09%), Baleares (31,71%),
Comunidad Valenciana (25,97%), Murcia (15,95%), Andalucía (13,94%) and Cataluña (13,45%).
Zooming in and looking at the provinces' level (there are 17 comunidades autonomas and 50 provinces), some provinces such as Tenerife (44,16%), Alicante (41,10%), Girona (32,89%), Baleares (31,71%), Málaga (28,19%), Las Palmas (24,01%), Almería (17,75%), Murcia (15,95%), Tarragona (15,35%) and Castellón (14,02%) have had high percentage of international buyers.
And if you thought that taking care of British buyers only is enough..
Then you should have a look at this graph below, which shows how the proportion of British buyers has kept decreasing over the past years while other nationalities are growing, and represent over 85% by now.

Thanks for reading my latest article. For more information about how to connect with foreign buyers simply email me at reiser@listglobally.com or visit https://foreignbuyerswatch.com/
[i] http://economia.elpais.com/economia/2017/04/13/actualidad/1492108520_984456.html